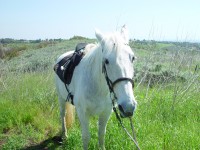 Zuma Cyn HikeMalibuThis trail is sure to amaze you. Nestled in the hills of Zuma Canyon, this ocean trail presents magnificent coastal views that reach as far south as Santa Monica and as far north as Ventura. On a clear day, Catalina Island is visible from the trail top. The trail itself is green and catches a nice breeze. The trail is good for beginners and I recommend going on a clear and sunny day to take full advantage of the views. Its great for the soul.
Although it slices only 6 miles inland from the Pacific shoreline, Zuma Canyon harbors one of the deepest gorges in the Santa Monica Mountains. Easily on a par with nearby Malibu and Topanga canyons in scenic wealth but much less known, Zuma Canyon holds a further distinction of never having suffered the invasion of a major road. Under cover of junglelike growths of willow, sycamore, oak and bay, the canyon's small stream cascades over sculpted sandstone boulders and gathers in limpid pools adorned with ferns.
There are 2 ways to hike this trail, one is a small mile loop, the other is a bit longer and more brush to fight, but you get some amazing views either way.
To get to the trailhead: Take PCH to Malibu and make a right on Bonsall Drive, one mile west of Kanan Dune Road (If you pass Zuma Beach, you have gone too far). Drive north on Bonsall Drive for one more mile to the dirt parking lot at the end of the road. The trail leaves from the northwest corner of the lot.
---
Categorised as: Uncategorized
---